After the Macaroon Blossom Afghan Crochet Pattern
was released and listed

I purchased this
Scheepjes S
tone and River Washed Colour Pack:
I thought it would be fun to use all these cuties with the Macaroon Blossom Afghan pattern and see what could be created.
***UPDATE***

***2023***
The afghan was completed with the Colour Pack and 2 extra 50 g skeins
of the Stone Washed Yarn
and this is how it turned out:
The Colour Pack is available on *Amazon by clicking here.
If you are in the US, you will be receive your yarn quickly.
additional 50 gram skeins of yarn for the border are also available on *Amazon
by clicking on the desired color below:
*Apple Blossom Dreams may receive small commissions
on purchases made via these Amazon affiliate links,
however, it is at no additional cost to you.
The afghan in the following photos is photographed with the Colour Pack,
but the afghan in the photos is the original version using 23-27 50 g skeins of
the Stone Washed yarn only.
The original pattern calls for 23 (50 gram) skeins of the Stone Washed Yarn in a variety of colors; however, the thought of combining these little 10 gram skeins of Stone Washed and River Washed yarn gets my creative mojo flowing and I'm so excited!
I don't want to do anything else. 🤪🤭
The stamen are all yellow and the leaves and the joining squares are all green in the original version, but since there are only 10 grams of each color for this next version.
I will have to dig deep into the right side of my brain for a color flow...
and the left side to calculate it all out. LOL 🤯🧶
Any ideas or suggestions? ♥️😁
You can find the original pattern by clicking on the following
Apple Blossom Dreams Shops: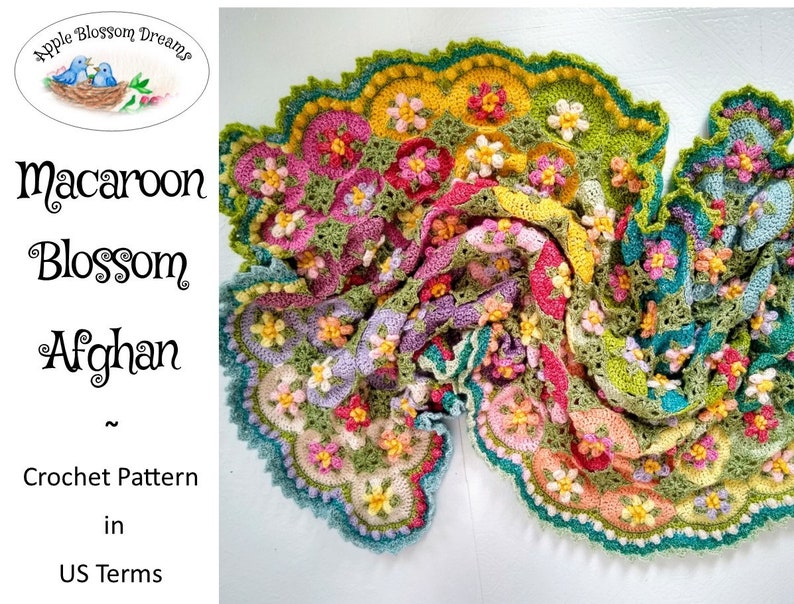 Clicking on the above photo will take you directly to the Etsy listing, as well.