The Rose Gold Afghan Crochet Pattern

has been released!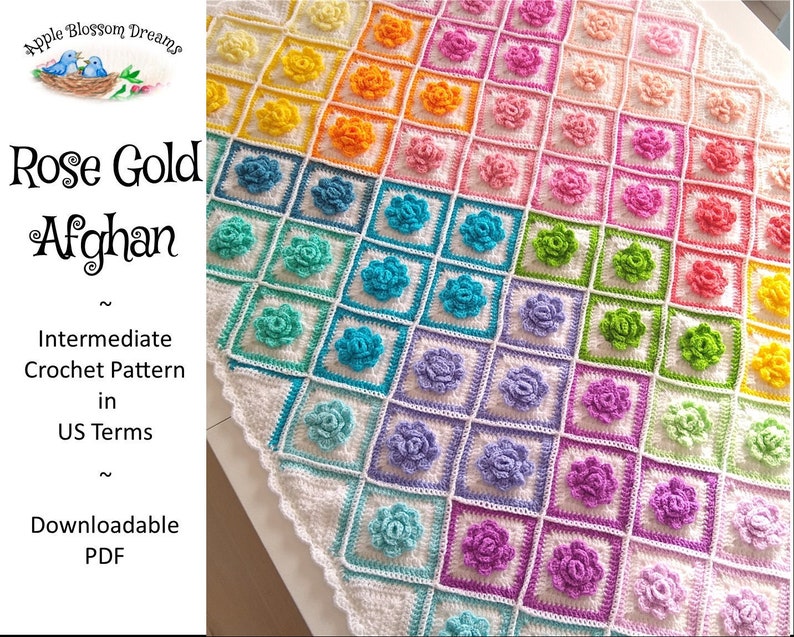 Whether you're snuggling up on the couch, adding a touch of elegance to your guest room,
looking for a thoughtful gift, or welcoming a little one into the world,
this floral afghan is the perfect project.
Featuring a delicate floral design, with optional gold accents around the roses,
this pattern is just right for adding a touch of color and sweetness
to any home and/or nursery.
With basic crochet stitches and simple techniques,
although the pattern is listed as "intermediate,"
it is perfect for crocheters of all skill levels.
The pattern includes 20 pages of clear and detailed instructions,
along with step-by-step photos to guide you through the process.
Links to exclusive videos for extra added assistance are also included.
Additionally, you'll find a two-page abbreviated version of the pattern
that is perfect for printing.
Crafted with soft and cozy yarn, this afghan will keep you, a loved one,
or a little one warm and comfortable all year round.
And with its timeless design, it's sure to become a cherished family heirloom.
With instant download, you can start crocheting right away!
Simply download the pattern and start working on this beautiful floral afghan today.
The finished afghan including the border measures 37" x 52" (94 cm x 133 cm)
100% acrylic DK weight yarn was used in the featured blanket.
The pattern is written and verbalized in US crochet terms.
Here it is with the gold accents:
💛🌸💛