There have been a few inquiries lately for the yarn and colors that were used
in the following photos of the Mitered Blossom Dishcloth.
So I'm hoping this information will be helpful.
All the colors used in these dishcloths are in the the
Scheepjes Catona Colour Pack
are listed in this scanned image:
You can click here to purchase the Colour Pack
with 109 skeins of these beautiful colors through *Amazon,
if you are in the US you will receive it within days.
Wool Warehouse is a great resource for this yarn if you are outside the US.
All the colors listed in the pattern will be in the pack
in a 10 gm skein...they are so cute!
(I imagine it will be fun to play with the other colors as well!)
You will need 5 colors for each dishcloth but you will have some leftover,
If you are making more than one dishcloth you will need more
than 10 gms of White and Green:

Click here to purchase 50 gm skeins of # 106 Snow White.
Click here to purchase 50 gm skeins # 105 of Bridal White.
Bridal White is a little creamier than Snow White.
I like a bright white (Snow White) but many makers like a creamier white (Bridal White).
The greens used in the dishcloths in the pattern photo are:
#205 Kiwi - this color is used in most of the dishcloths.
There are however a couple of alternative greens on Amazon that you might like:
.
Click here to purchase 50 gm skeins of # 212 Sage Green.
Click here to purchase 50 gm skeins of # 244 Spruce Green.
Apple Blossom Dreams may receive small commissions
on purchases made via these Amazon affiliate links,
however, it is at no additional cost to you. #ad
And with all that said and done,

you will need the pattern
that can be found at the following
Apple Blossom Dreams Shops by clicking on the shop name: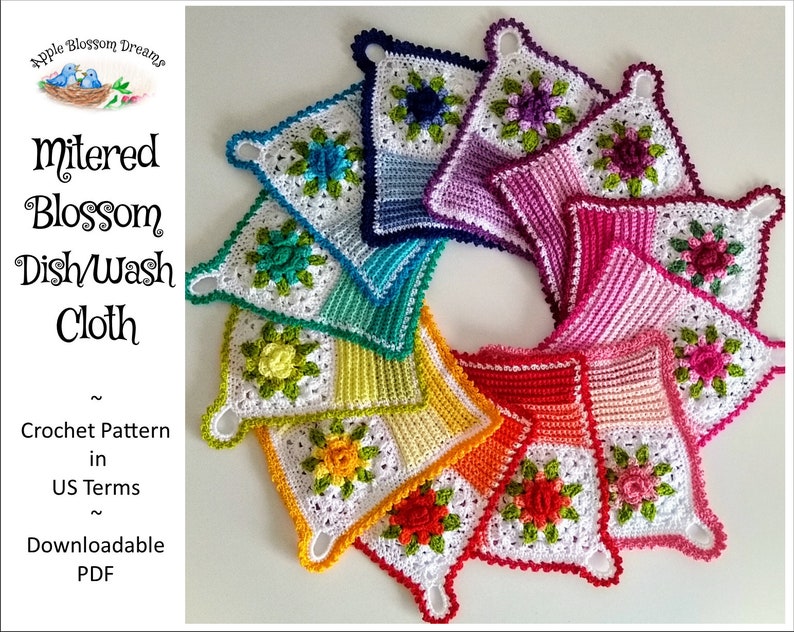 Oh and here's an idea if you are looking for a gift for a crocheter:
Purchase additional patterns as gifts, print them, then gift the pattern with five 10 gm skeins.
If possible coordinate the colors with the recipients kitchen,
they will love that extra thoughtfulness!
Well, gosh that was a long winded post!
I better end it here, although I have so much more to say/write.😉
I truly do wish you a lot of