The Scheepjes Stone and River Washed Colour Pack Version of the
The Macaroon Blossom Afghan

has been added to the crochet pattern!
If you previously purchased this pattern via Ravelry then
you have been sent V2 with the Colour Pack version added at the end of the pattern.
If you purchased the pattern via another shop and would like V2,
please email me and I will joyfully send it to you,
utilizes one box of Scheepjes Stone and River Washed Colour Pack:
This is how much yarn was leftover:
In order to complete the last four rounds of the border,
an additional 2-3 50 gram skeins of Scheepjes Stone Washed yarn is needed:
and then you'll have this:
This is how the listing now reads:
Crochet this lusciously delicious and colorful Macaroon Blossom Afghan using 27 skeins of 50 gm Scheepjes Stone Washed yarn or a yarn of your choice. This instantly downloadable pattern will teach you step-by-step how to complete the JAYGO (join-as-you-go) method with blossom circles and leaf squares. The 29-page pattern includes over 100 step-by-step photos and charts, as well as, several links to exclusive videos for extra added assistance. Additionally, you'll a three-page abbreviated version of the pattern, as well as, a five-page instructional guide on how to adjust the pattern to utilize one Scheepjes Stone and River Washed Colourpack and 2-3 50 gm skeins of Scheepjes Stone Wash yarn.
The pattern is written and verbalized in US crochet terms.
You can find the pattern with the supplement added by clicking on the following
Apple Blossom Dreams Shops: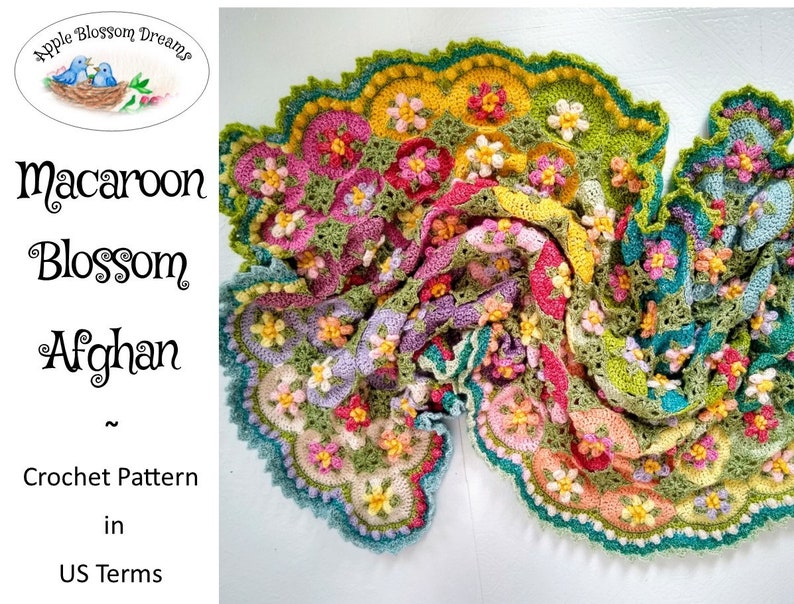 Clicking on the above photo will take you directly to the Etsy listing, as well.
The above photo and the photos below are of the original afghan.
This afghan was crocheted with Scheepjes Stone Washed Yarn.
I love, love, love this yarn and those colors make me swoon!
The common name colors are indicated in the pattern
so you can substitute your favorite yarn, if desired.